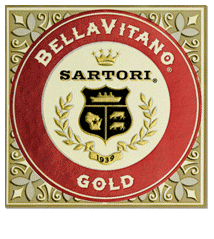 NEWS
Plymouth, Wisconsin 

Sartori Cheese is excited to announce they received the top three ribbons in the "Flavored Hard Cheese" class at the Wisconsin State Fair Cheese & Butter Contest. Placing first was Sartori's Chai BellaVitano, followed by Rosemary and Olive Oil Asiago and Espresso BellaVitano. This year, the competition hosted nearly 350 entries and featured 26 classes.

Sartori's Chai BellaVitano, a Sartori Original starting off with BellaVitano Gold and hand rubbed with a blend of black tea, ginger, cinnamon, cardamom and cloves, will compete with Wisconsin's best at the Blue Ribbon Cheese & Butter Auction held on August 8th for the Grand Champion title. Last year, Sartori cheesemaker Joel Pagel received "Grand Master Cheesemaker" with Sartori's Classic Asiago and took home the Grand Champion trophy.

"We're very fortunate to have received a blue ribbon for our Chai BellaVitano, which was first released last year. Each time we create a new cheese, we reach out to our team members, customers and consumers for feedback. When we do well in a competition, it helps to solidify all the hard work we put into making that cheese," stated Sartori Master Cheesemaker, Mike Matucheski. "Cheesemakers take a great sense of pride in their work. For us, it's our passion."

Sartori also received a second place finish for their Limited Edition Extra-Aged Goat cheese crafted by Sartori Master Cheesemaker Pam Hodgson and a third place finish for the former Grand Champion, Classic Asiago.

All of Sartori's award winning cheeses can be purchased at specialty cheese shops throughout the United States and found online at sartoricheese.com. For more information and updates, like Sartori on Facebook and follow Sartori on Twitter @sartori_cheese.

 

"Congratulations" to Sartori !  We are very appreciative of our Salad Girl demo partnership with Sartori, and we are proud to offer a taste of Sartori's delectable cheeses with our savory demo samples.